Everyone knows the name 'Minecraft', after all, we're talking about one of the most popular games on the planet. However, not everything that is a success has to remain closed in its box … Sometimes it is a good idea to experiment, to try to take that experience a little further! Who knows, it could result in a new and resounding success!
Well, this is exactly what Microsoft tried to do with Minecraft Dungeons, a kind of spin-off to the acclaimed game. That despite being a little different from the original game, it manages to maintain the 'feeling' of adventure and endless possibilities. However … It is not perfect.
(Analysis) Minecraft Dungeons:
So when the game starts, step into the shoes of a silent hero, who is obviously a combination of cubes in the traditional Minecraft way. That said, while in Minecraft the player has the mission of creating a gigantic world in order to give free rein to his imagination, here he will have to defend everything and everyone around him, in order to beat the dark Illager as well as everyone the minions that it sends against you.
For this you will have access to several weapons, each with their special properties, as well as a lvling system to increase power and add new elements to the fights. So, after getting the hang of it, you will have to fight authentic hordes of enemies or bosses (sometimes both at the same time) using artifacts, swords, bow and arrow, etc … Where the goal is only one, reach the end the level.
In short, here we have a 'hack and slash' with some mixing strategy.
A simple world with some features of brilliance!
Minecraft Dungeons is undeniably a fun game, being especially cool when you get home from work and just want to rest / hang your head for a few hours, since it is not at all a complicated title to get your hands on.
That said, although at the beginning we think that there is a world of diversification ahead of us, as only Minecraft is able to offer, you will quickly realize that things will always be very similar despite actually meeting more powerful enemies and being constantly to evolve our equipment.
But calm down! Don't think that everything is the same, the game offers a series of different enemies, from golems, sorcerers, archers, and even traps, so you have to be careful to change your strategy. In fact, there will be several times when little care is needed, while you will have to manage healing, attacks from afar and use of artifacts.
However, the combat system has some flaws, such as the very annoying that it is not possible to use ranged weapons while using a projectile.
Still, it is easy to say that this is a game designed to be fun (despite being short, with ~ 5 hours of gameplay), leaving important things that we can forgive behind.
Co-Op!
If there was one thing I missed in these quarantine times, it was a good Co-Op game to play with friends! Unfortunately, Minecraft Dungeons comes a little late in this regard, yet it brings a very interesting way for us to venture strong and ugly with those we like most in an online or local way. (In the future there will be crossplay with all platforms, where we can highlight the Switch and PS4, in addition to the PC and Xbox One).
Do you like Minecraft? You will love this game!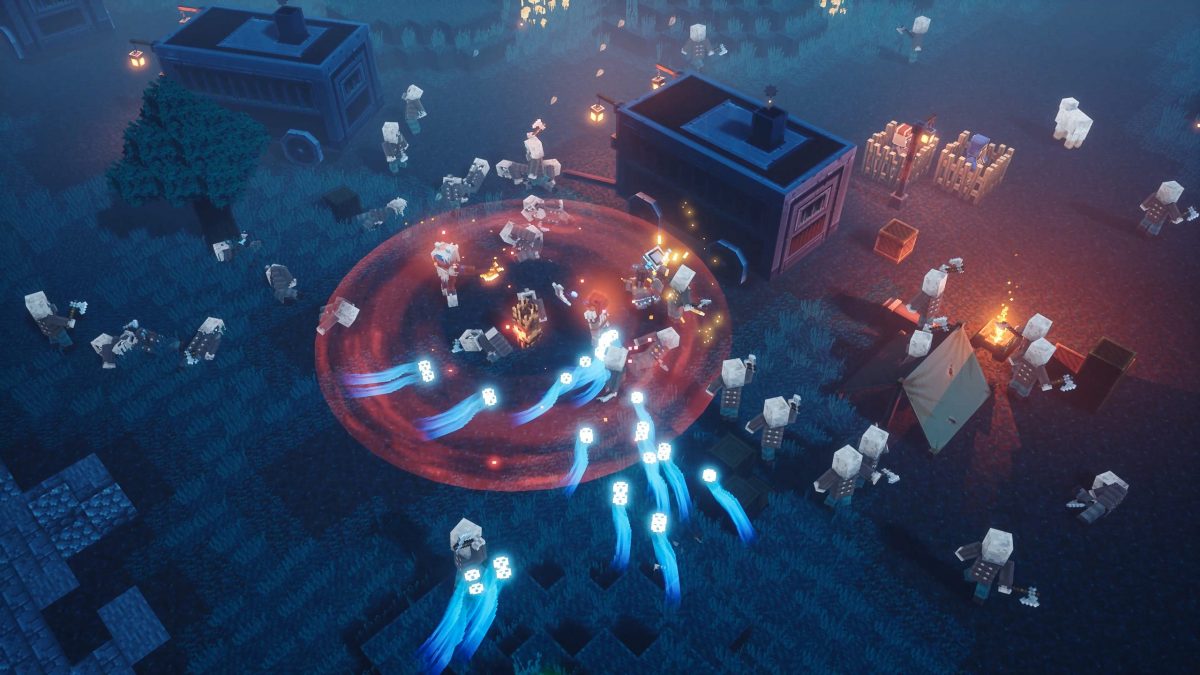 Despite all its flaws and being a little short, it's a Minecraft game! And it's a good thing that it is.
What is not lacking there are players who want a little more of this experience. That said, the exploration is here, the animations are exactly the same, and we even have several references to the original game! For example, the existence of 'Enderman', an NPC based on 'Slenderman', which will bother you a lot during several levels when you reach the middle of the game.
Conclusion
In short, it is a game that tries to capture the essence of Minecraft, while trying to test new water. That said, it is a game that can be noted that it was made with great care by the development team. What in my opinion is really important in this world full of multi-million Euro AAA projects.
Furthermore, what do you think about all this? Share your opinion with us in the comments below.
Do you like Leak? We count on you! Follow us on Google News. Click on here and then Follow. Thank you!
Follow us on Facebook, Twitter, Instagram! Want to talk to us? Send an email to geral@leak.pt.